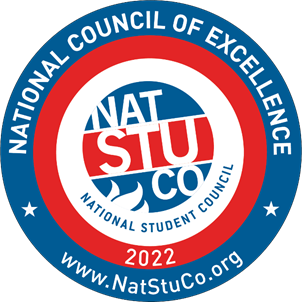 Congratulations to the Thunderbolt Student Council for being recognized as a 2022 National Council of Excellence.
Winning the National Council of Excellence Award is testament to the highest standards of quality that your council consistently demonstrates in its operation, and its projects and activities.
NatStuCo Councils of Excellence are the models of quality for which other student councils should strive to become.
Student Councils are an integral and essential part of strong schools.
Thunderbolt Student Council is a member of the National Student Council; as such, our fundamental tenets include a belief in student service, leadership, voice, and engagement.
This year's vision and mission of the Student Council representatives are as follows:
Mission: To make Thunderbolt Middle School a better place for students and staff. We represent our school and community.
Vision: Gain experiences as student leaders; inspire hope and connections among the student body.

Some of our events include celebrating Thundercat student birthdays each month, ensuring that student council leaders have an opportunity to network or build upon their skills, supporting our on-campus community nights, and running the Step It Up event for all students.
Meetings are held monthly on Thursday mornings at 7am in the Thunderbolt Library.
Application and acceptance into the student council takes place in August-September of each school year.
2022-2023 executive board*
Elijah Aston, President
Ashlynn Garry, Vice-President
Carrie Bartlett, Secretary

Epic Pascual, Treasurer
Landen Musselman, Sergeant at Arms
*Please note that student leaders at Thunderbolt Middle School are encouraged to limit their positional leadership roles to just one club a year. While we encourage students to belong to multiple clubs, they will only be eligible to hold a board position in one club.
For more information about joining the council, please reach out to the advisors: